How to Use the Virtual Platform
Quick guide to key ESPID 2022 virtual platform features
Want to know where to get started with the virtual platform at ESPID 2022? Find out below.
Features include:
Networking
Watching sessions live and on-demand
Exploring all the abstracts and e-posters
Connecting with industry representatives
And more.
Enjoy the Meeting!
Networking Features
There are many ways to network on the virtual platform and in the sessions. Before you explore how to use the platform, watch this video to find out about some of the networking features to try out once you are logged in.
Getting Started on the Platform
Logging In
Log in via the ESPID 2022 website with your credentials received from your welcome letter.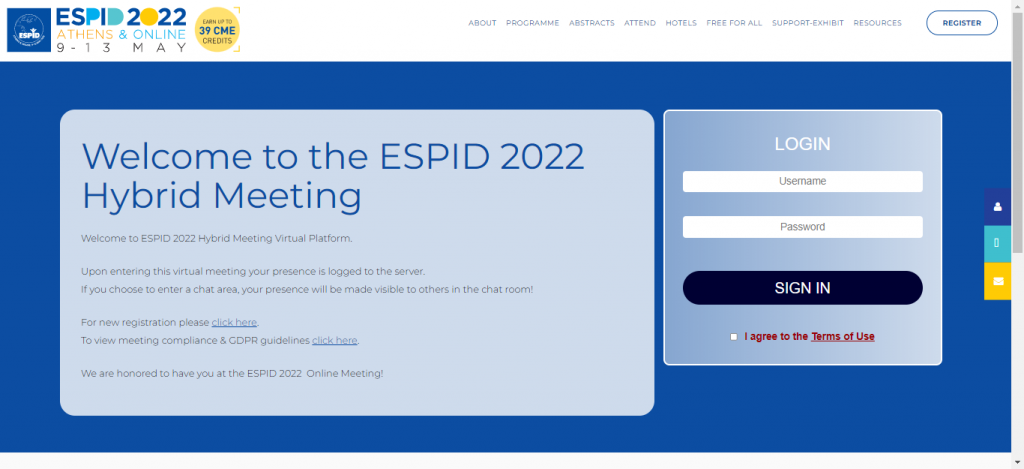 Time Zone
Select your preferred time zone to follow the program schedule according to your local time.  ​
​
​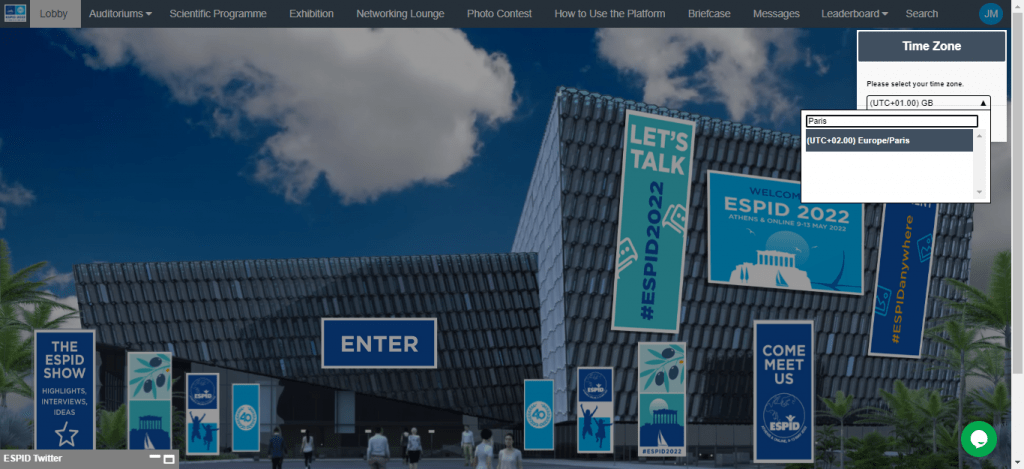 Enter
Click on the "Enter" sign to access the Internal Lobby – the main place to navigate to the different areas in the ESPID 2022 Platform. ​
​
​
​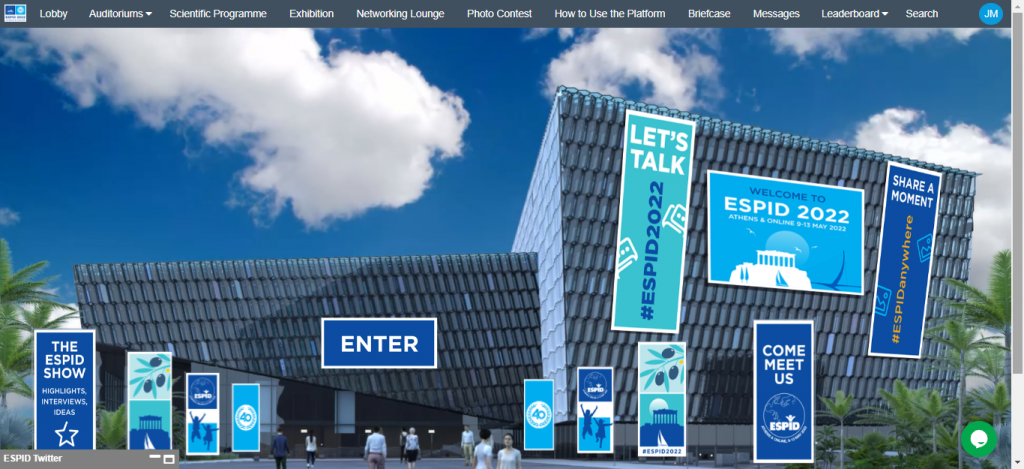 Explore
Choose a place to explore either from the top menu bar or the lobby areas.​
​
​
​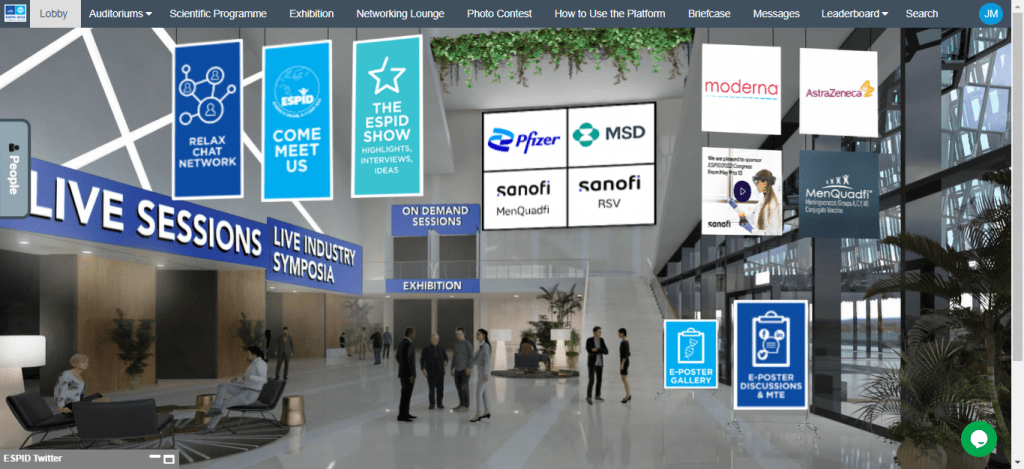 Complete Your Profile
For a better networking experience, we suggest updating your profile.
In the navigation menu, click your initials and then "Profile". Fill out your information in the blanks and the algorithm will recommend more people similar to you in the live chat.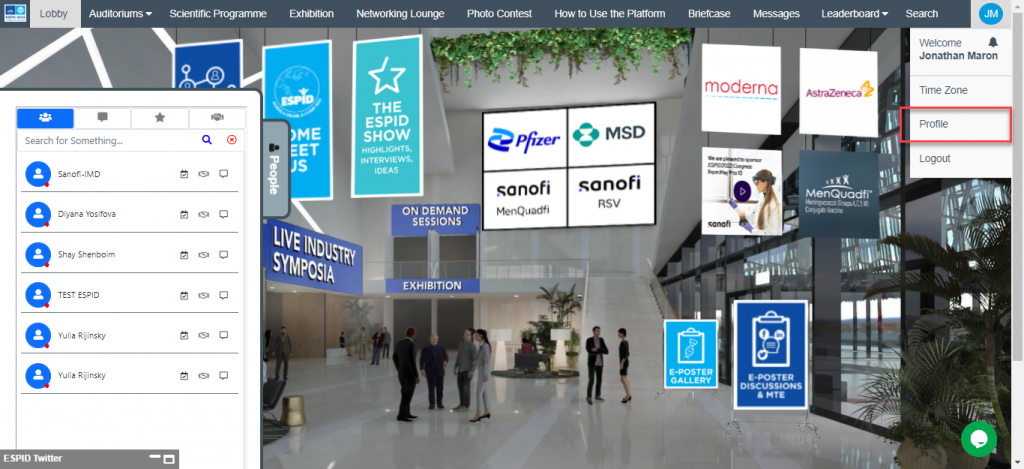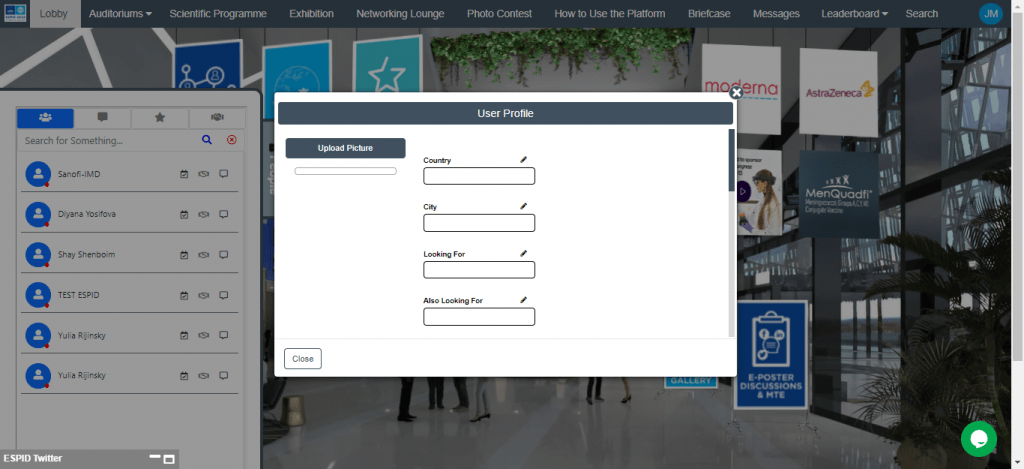 Connect with People
Click on People to explore your recommendations for people to connect with! Enhance your networking possibilities through our powerful matchmaking algorithm.​
You will see 4 tabs:
List of everyone registered on the platform and their current online status
Your message box
Recommended people – if you fill out your profile the system will be able to make better recommendations
Your connections – your personalized list of people you have added as connection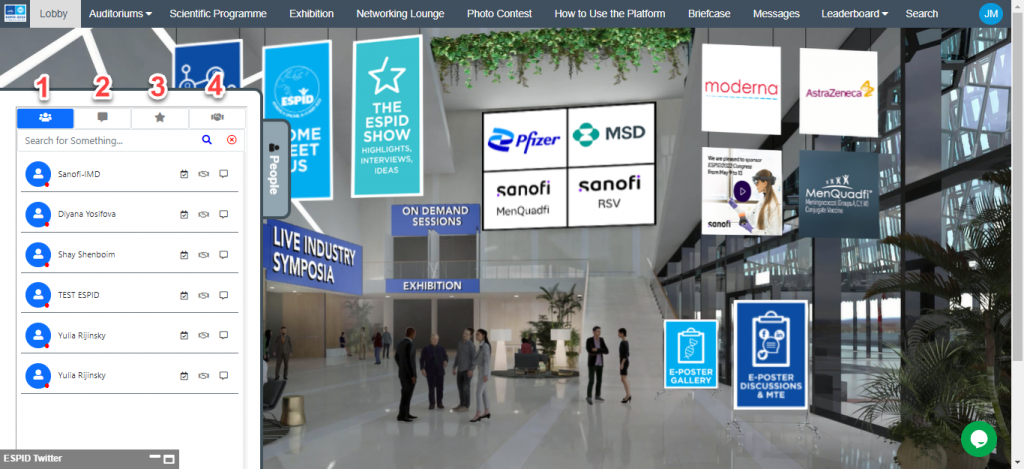 Be Active to Win
Check the Leaderboard for the most active participants – the more participants explore the online event, the more points they will gain!​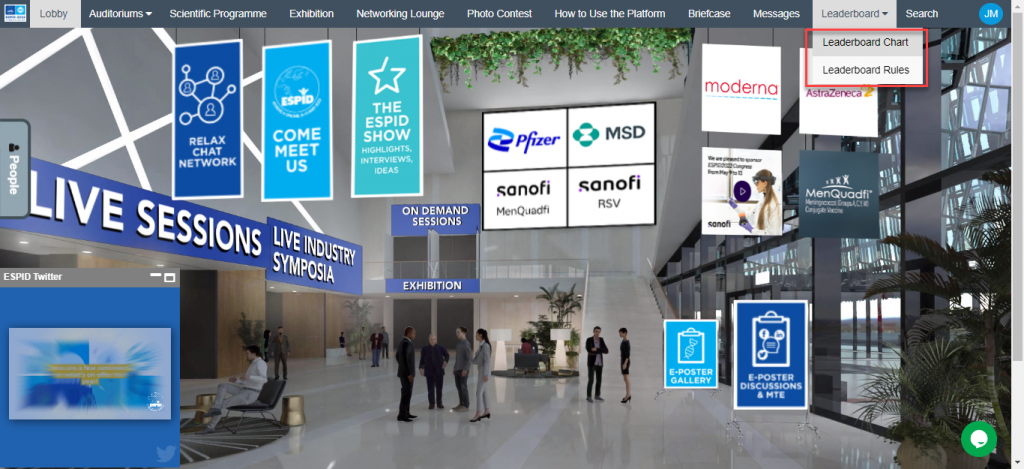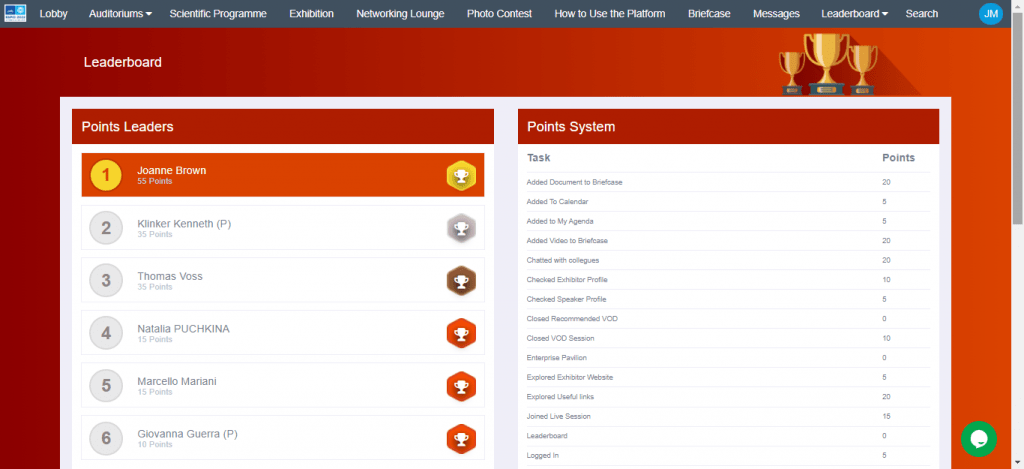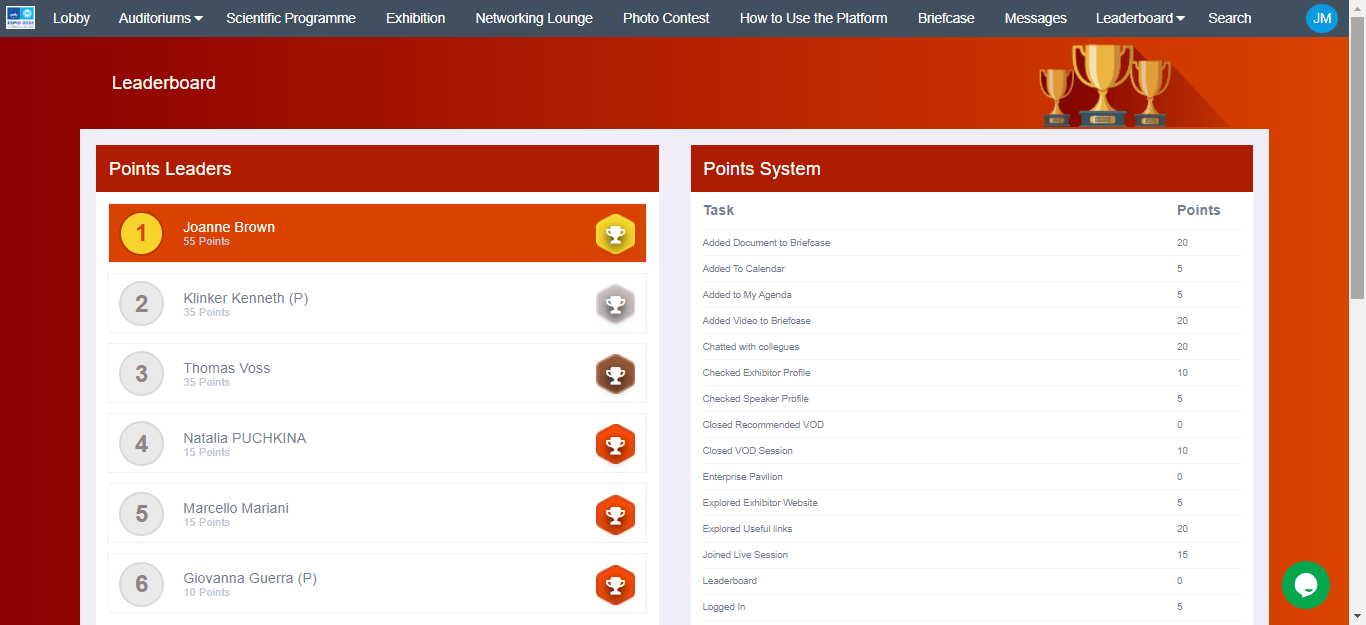 Messages & Saved Files
Find any saved downloadable documents in your Virtual Bag.​
Check your notifications via Messages.​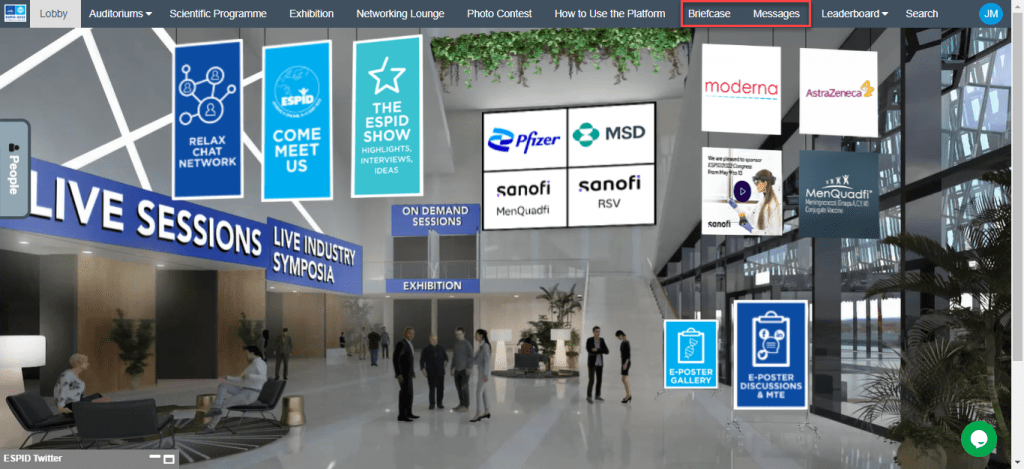 Search
To easily locate a specific session, speaker, exhibitor or any related exhibitor documentation/ video, click on the Search functionality and type any keyword.​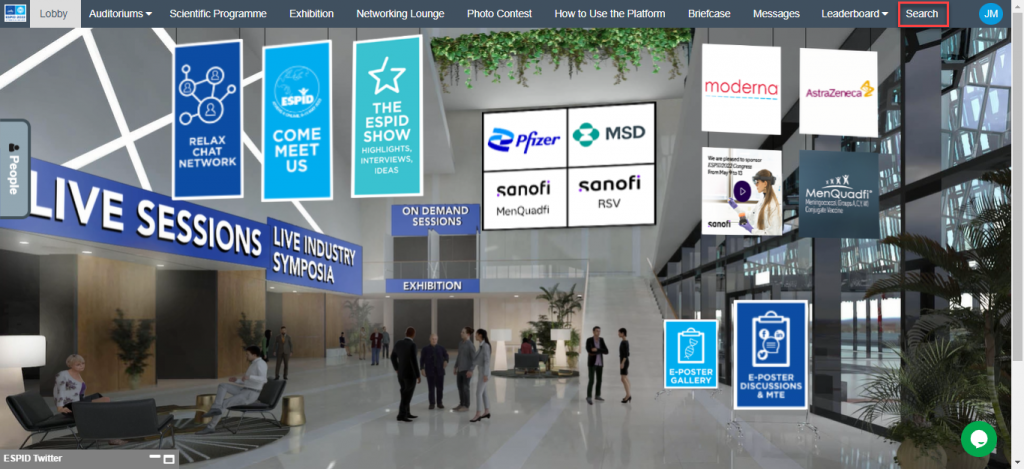 Help
If you have any questions, contact the Technical Support team via the Chat icon available on all platform pages during the Conference days.​​